It was at the 2014 Assistive Technology Conference of New England that I met Emily and her mom Carolyn.
I had seen the name of the vendor, Love Letters by Emily, come across the planning committee correspondences. I was intrigued to find out what they were. The products were photos and collections of photos of hands ASL signing letters; I had done something similar a few years ago with my son who is of typical hearing abilities, so I already loved the idea. But when I read the story and met the family, it just made my heart sing.
Love Letters by Emily is a labor of love, family and dedication.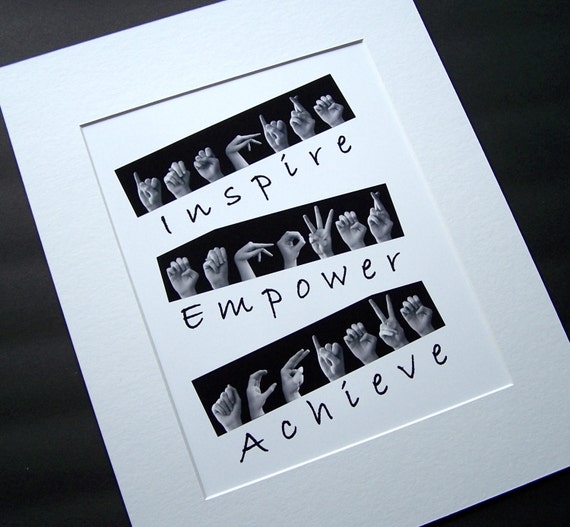 I had the chance to connect with Carolyn Maxwell and talk a little bit about the business, being a parent of child with special needs, and the role of assistive
technology in Emily's life.
Emily was born with developmental delays and hearing impairment. She attended the Rhode Island School for the Deaf during which she received extensive educational and therapy services to support her growth and communication. But when she had completed her role as student and was transitioning to a new role productive working
citizen, mom Carolyn wanted Emily to be engaged in something she loved to do, shop and sign.
Photographing Emily's hands is a beautiful way to share her knowledge and experiences. But the ETSY shop isn't just a portfolio of her hands. There are many tasking in running the business that Emily partakes. She shops for the frames and materials, goes to the post office, addresses notes and envelopes, and visits local shops to restock inventory. It isn't just a picture, it is a purpose.
I asked mom about technology's role in Emily's life. She candidly shared a story about her experience.
"I have always been conflicted about using AAC apps - not embraced by the Deaf culture ~ one of my more memorable personal Facebook postings happened after a loooong conversation in sign with Emily at the grocery check-out observed by a Job Coach working with the bagger who asked, "Have you thought about getting her a Voice Box, I think she'd do well!" My thoughts were, she is communicating well, the rest of the world just needs to learn sign language!"
Emily has had experience with
ProLoQuo2GO
(available on iTunes for $219.00) in the school setting; but when she graduated, she had to return the iPad that was loaded with all the personal information. And community outings with the app are frustrating because the recipients of the speech output either can't hear it or just are surprised by its use. So for Emily
(for now)
low tech picture cards are a more efficient way for getting others who don't know sign to know what she is thinking.
However, the iPad and computer is a great leisure tool for Emily. She enjoys watching YouTube, looking through her photo library and cruising Facebook. It inspires socialization. The have used

Stories2Learn

(available

on iTunes for $13.99)

to join text with photos to write social stories.
I know that this is one of many stories across the world that touch upon so many barriers to living life to its fullest. From navigating doctor's visits to school system conflicts to developing meaningful vocation. But take it from Emily and Carolyn: don't be discouraged, be inspired.
Visit their shop, Love Letters by Emily on ETSY or follow them on social media via twitter
@LoveLettersByEM
or Facebook https://www.facebook.com/LoveLettersbyEmily.
"♥ Love Letters by Emily ♥ was inspired by a Valentine's Day gift from our daughter's Teacher of the Deaf who photographed her hand fingerspelling L-O-V-E with American Sign Language letter handshapes. It's one of the sweetest and most thoughtful gifts from the heart we've ever received, and it's a gift of love that we wanted to share. One idea led to another ~ and another . . . and our Etsy shop was born!"